Course notes: Time Management for Technical Leaders
Course notes on Patrick Kua's "Time Management for Technical Leaders"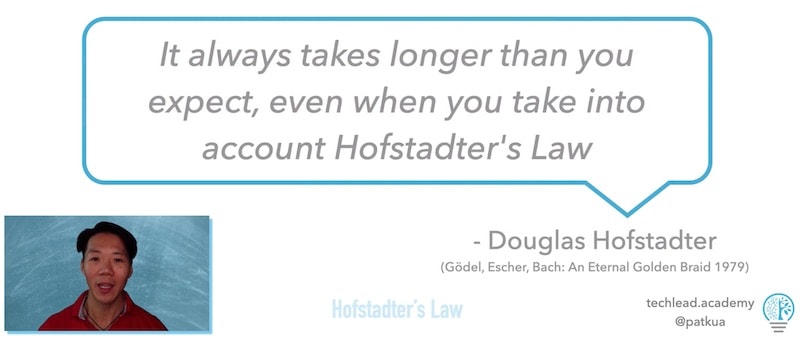 These are my notes on Patrick Kua's Time Management for Technical Leaders.
Main insight: plan, split scary tasks, time box and rest. Aim for a WIP of 1.
Notes
Focus on how you can have the biggest impact with the time you have.
Eisenhower Matrix:


Do: emergencies, major outages, crisis, someone quitting.
Decide:

Manage technical debt.
Building relationships.
Schedule time.
Research.

Delegate: See Camille Fournier's delegation matrix.

Biorhythm: Keep track for a week on how is your energy level on each task.
Defrag your calendar: group together similar nature tasks.
2 minutes rule: Do now anything that takes less than two minutes.
Parkinson's Law:

"Work expands to fill the time available for its completion".
Time box.
Spit into smaller tasks.

Pareto's Law.
Carlson's Law: Multitasking is bad.
Law of Diminishing Returns (Illich's Law): You need to rest.
Hofstadter's Law:

"It always takes longer than you expect, even when you take into account Hofstadter's Law".
Prepare plan B.
Early feedback.
On planning, think about all possible bad scenarios.

Law of The Least Effort (Laborit's Law):

"Human behaviour drives us to do what makes us happy first".
It is human nature to avoid stress.
Eat the frog first.
Give yourself a reward.
Get started by baby steps.

How to kill dead time:

Meditation.
Make notes.
Call someone.
Do nothing.

Slack. Great book.
Productivity Systems:

Get Things Done:

Open Loops:

When you worry about when and if something is going to get done.
Source of stress.

Three steps:

What is the outcome.
What is the next step.
Reminder.

Bucked things per timeframe.

Personal Kanban:

Visualize your work.
Limit WIP to 1.
---